Subscribe To Announcements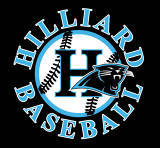 Hilliard All-American Travel Baseball (H.A.A.T.B)
The Hilliard Panthers organization is a non-profit, youth travel baseball organization founded in 1997. We select athletes from within the Hilliard school district to compete in the Central Ohio Youth Baseball League (COYBL) as well as several local and out of town tournaments. For 2019 we will have six teams competing in the U8 to U13 age groups. While we strive to win each game, our priority is developing outstanding baseball players who understand the physical, mental, and strategic aspects of the game.
No sponsors have been added